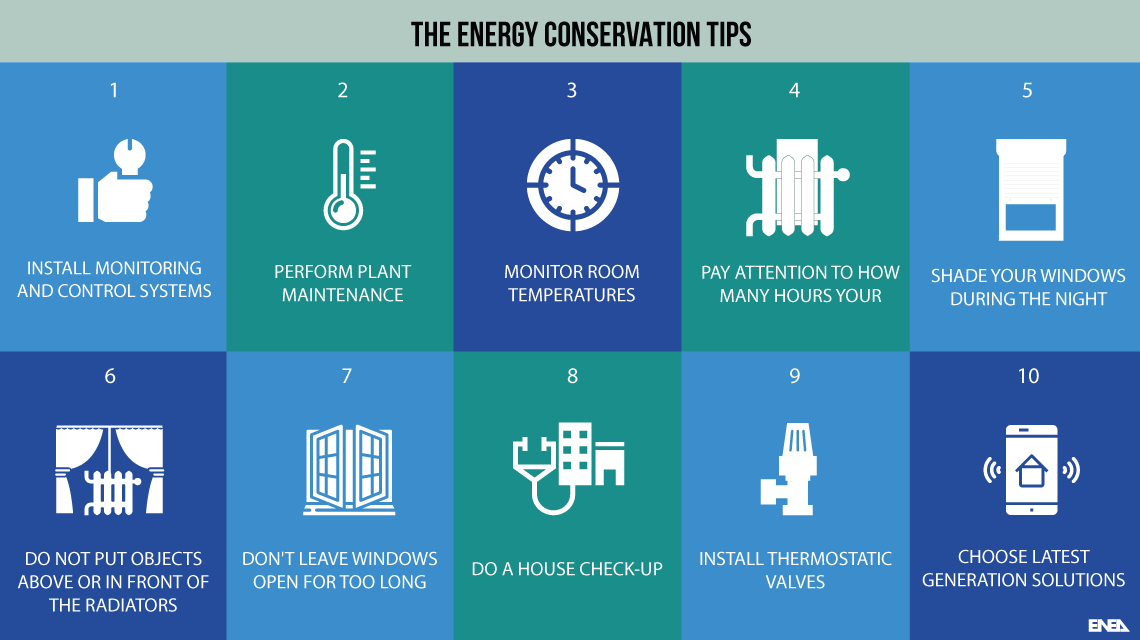 Energy: ENEA tips to reduce your heating bills
On the eve of the heating season, ENEA outlines some tips to save energy and cut your bills without compromising on comfort. First, monitor power consumption by setting up a smart meter, an electronic device used for reading energy consumption in real-time which connects with your mobile phone through an app.
"The first saving strategy is to monitor consumption to raise awareness on energy waste habits. Last year, behavioral changes taken by citizens played a significant role in achieving the objective of limiting national energy consumption[1]" pointed out Nicolandrea Calabrese, head of the ENEA Laboratory of Energy Efficiency in Buildings and Urban Development. "In light of the results achieved – he said – this winter it will be even more important to commit to energy saving, either to confirm or further reduce consumption".
The energy conservation tips:
Install monitoring and control systems
Monitoring energy consumption through smart meters is essential to become aware of your energy usage and to promptly identify any losses or malfunctions.
Perform plant maintenance
A system consumes and pollutes less when it's properly set, with clean filters and without limescale deposits. Failure to carry out maintenance can result in a 500 euro fine (Presidential Decree 74/2013).
Monitor room temperatures
19°C is enough to guarantee the necessary comfort. Each degree less saves up to 10% on fuel consumption.
Pay attention to how many hours your heating is on
Check which of the 6 climate zones of Italy you live in: The maximum daily switch-on time varies according to climate zones. Turning on the system one hour less per day and reducing the temperature by one degree can lead to energy savings of around 15%.
Shade your windows during the night
Closing the shutters or using heavy curtains reduces heat dispersion
Do not put objects above or in front of the radiators
Avoid placing screens in front of radiators, such as curtains or furniture, which hinder heat diffusion. Instead, it is advisable to place a reflective panel between the wall and the radiator: even a simple sheet of tinfoil helps reducing heat dispersion.
Don't leave windows open for too long
To air a room it's enough to let the windows open for a few minutes, leaving them open means an unnecessary heat loss.
Do a house check-up
A qualified technician can assess the efficiency of the heating system and the thermal insulation of walls and windows. You can reduce consumption by up to 40%.
Install thermostatic valves
Mandatory by law in condominiums, thermostatic valves allow you to reduce consumption by up to 20%.
Choose latest generation solutions
Replace the old system with a high-efficiency condensation or heat pump one and adopt chronothermostats, presence sensors and remote electronic regulators.
As regards monitoring, you can find help on the consumption portal of the Regulatory Authority for Energy, Networks and the Environment (ARERA), which provides free service on readings and consumption.
A further reason to adopt energy monitoring systems is the presence of a photovoltaic system installed at your home. "Lack of energy consumption awareness leads to incorrect behaviors or the belief that installed photovoltaic systems do not bring the expected economic benefits", pointed out Francesca Caffari and Giovanni Murano at the ENEA Laboratory of Energy Efficiency in Buildings and Urban Development.
If you have a photovoltaic system, synchronize power production and consumption using home automation, i.e. those systems that allow users to remotely control and regulate home appliances, automatically turn on heat pumps at peak production times and set heating on in the central hours of the day.
According to the latest GSE Report on photovoltaic solar, at the end of 2022, 82.5% of the approximately 1.2 million systems in operation in Italy were installed in the residential sector, with a total capacity of approximately 5 thousand MW, equal to 20% of the total photovoltaic capacity. An ENEA monitoring of various homes showed that the peak of energy consumption, including heating, is concentrated in the early morning and mainly in the evening.
Other simple actions can save energy and reduce polluting emissions, including an energy assessment of your apartment to evaluate the thermal insulation of walls and windows and the efficiency of the heating systems, which allows you to reduce costs by up to 40%.
[1] The comparison between the consumption recorded from August 2022 to March 2023 and the average consumption in the same period of the previous 5 years (between 2017 and 2022), shows a methane gas saving of approximately 10 billion m3, 18% higher than the target of 8.2 billion m3 to contain natural gas consumption set by the National Plan on 6 September 2022