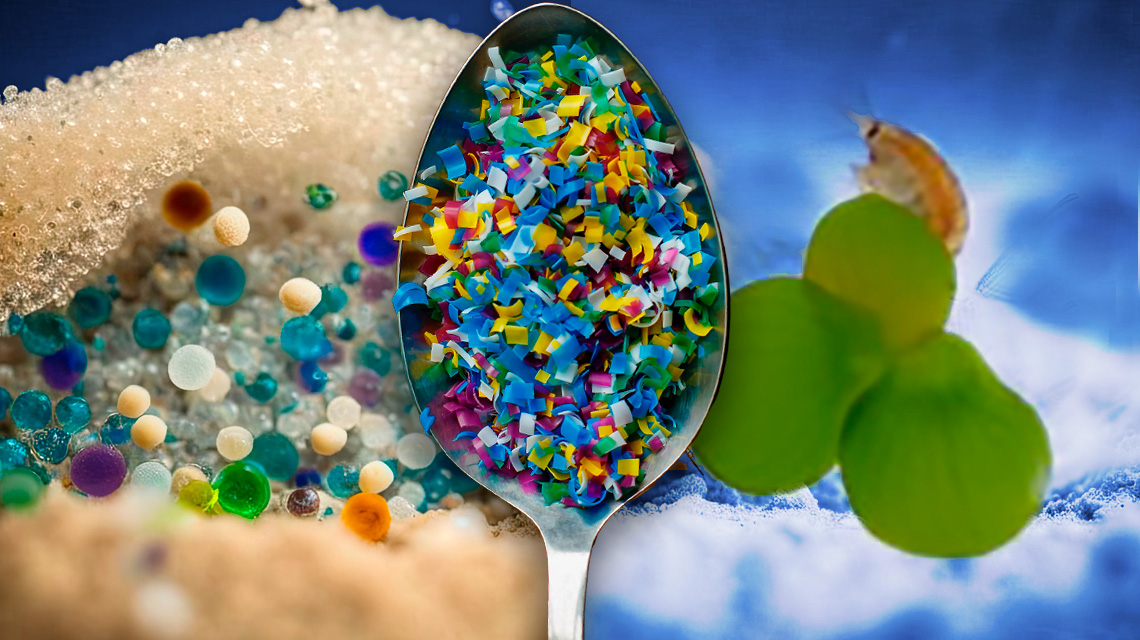 Environment: Microplastics climb the food chain through both plants and animals, says study
An ENEA-Cnr study published in the international journal Water described a part of the microplastics' journey "from water to the plate", demonstrating how these contaminants are transferred from fresh water to the roots of aquatic plants and, consequently, to the crustaceans that feed on it, damaging their genetic heritage and, in the long term, that of the entire ecosystem.
The ENEA team, jointly with researchers from the Cnr Research Institute on Terrestrial Ecosystems coordinated by Massimo Zacchini, studied the effects of polyethylene(PE) microparticles, one of the most common plastic materials dispersed in the environment, on freshwater organisms, plants and animals. In particular, the species used were Spirodela polyrhiza, the so-called duckweed, a small floating aquatic plant, and Echinogammarus veneris, a freshwater crustacean similar to a shrimp, which is the staple food of fish like trout. The plants were immersed in water contaminated with microplastics of about 50 micrometers - smaller than a hair's breadth - and after 24 hours transferred to the shrimp tank.
The results showed that during the exposure the plants, in addition to a slight reduction in the chlorophyll content, accumulated a high quantity of microplastics on the roots on which the crustaceans feed, ingesting on average about 8 particles per specimen. Furthermore, it was also possible to demonstrate how microplastics, once ingested by crustaceans, are broken up and "returned" to the environment in the form of excrement, which can re-enter the food chain, the so-called "detritus foodchain", in a potentially more dangerous way than the initial one.
"This study clearly shows, within a controlled laboratory system, the mechanisms through which microplastics enter and climb the food chain", pointed out Valentina Iannilli, ENEA researcher at the Biodiversity and Ecosystem Services Laboratory. "In fact, the plants had the role of 'collecting' and 'transferring' these particles to the crustaceans which in turn accumulate microplastics also in the muscles, which are the parts we eat".
Finally, the direct effects of microplastics on the DNA of crustaceans were evaluated, to understand whether they could also induce genotoxicity, i.e. damage to the genetic material. After only 24 hours, it was possible to observe how the individuals "treated" with the microplastics presented a significantly higher level of DNA fragmentation than the untreated ones, demonstrating how these particles are actually capable of inducing DNA damage in the cells.
"This means that microplastics, far from being inert as is often reported, climb through the food chain and interact with biological materials with direct effects also on the integrity of the genetic heritage and potential long-term consequences on populations, communities and entire ecosystems", said Valentina Iannilli. "A result – she concluded – which should make us reflect on the harmuful effects of releasing these microscopic particles into the environment, also in consideration of their diffusion in all environments, like water, soil, air and Arctic ice".
For more information please contact: