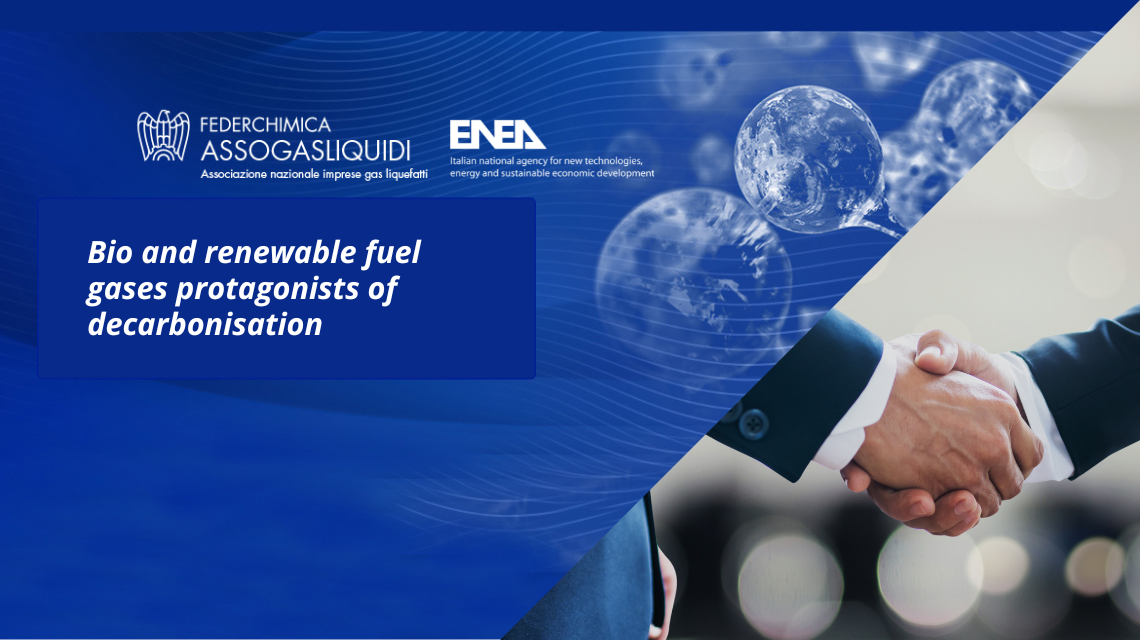 Energy: ENEA and Assogasliquidi-Federchimica sign agreement to accelerate decarbonisation of liquified natural gas
Research progress on liquefied gases to attain the EU decarbonisation targets in the medium and long term.
The agreement signed by Assogasliquidi-Federchimica and ENEA aims at accelerating a path already taken before the pandemic: significantly increase production of bioLPG, bioLNG and other renewable products such as dimethyl ether (DME) and biogas, obtained through the processing of various types of organic waste.
The agreement aims at sharing skills and experiences to develop, characterize and validate new technologies and products capable of contributing to a substantial reduction of the carbon footprint of the thermal and transport sectors.
"We have always been committed to the energy sector, also to provide our contribution to reaching the EU emission reduction targets by 2030," said Giorgio Graditi, general director of ENEA. "With the protocol signed today with Assogasliquidi-Federchimica – he said – we want to promote skills sharing to develop new technologies and products, to guarantee growth of bio and renewable solutions (such as DME) to decarbonise liquefied gases. We believe it important to contribute to the replacement of fossil fuels, benefiting from an already available market and infrastructure network."
A first objective of the LPG supply chain foresees for 2030 the release in consumption of a mixture made up of at least 40% organic and renewable products (bioLPG, already present on the market, and DME), components that can be used pure or mixed, in amounts to satisfy the energy demand of the residential, commercial, industrial, agricultural and automotive sectors. A second horizon has been identified in 2050 with a further cut in CO2 emissions.
"Our companies have already committed to supporting the investments necessary to reach this epochal turning point," explained Andrea Arzà, president of Assogasliquidi-Federchimica.
"The allocation for this first objective, set for 2030, will be approximately 4 billion euro" he said. We have already conducted some preliminary tests but ENEA, an Italian research excellence in the energy sector, will take the last and decisive step to improve our emission performance. In fact, we must never forget that gases and liquefied gases have always been the best allies in combating pollution and fine dust emissions. But we have also been working for some time to achieve the best results in terms of decarbonisation"
ENEA will work with Assogasliquidi through its Department of Energy Technologies and Renewable Sources, which operates in the entire energy chain, with particular reference to renewable sources and gases, associated technologies and sustainable mobility, in which it's a national and European point of reference for applied research. It has already gained experience and skills in the production of biofuels, as well as in the production processes of efuel and DME.